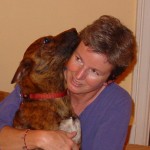 Lincoln Veterinary Services is owned and operated by Dr. Anne (Betsy) Johnson. I graduated from the Tufts School of Veterinary Medicine in 1985 and have been practicing house call medicine since 1990.
I answer my cell phone (when possible), pick up my own messages, return all phone calls (as soon as possible), and am the only one to come to your home.
Phone calls are usually answered by my voice mail. I answer messages between housecalls. If you wish to email me, I will return your emails at lunch time or in the evening.
Phone
(781) 259-0290
Send an Email